Posted on
March 11th, 2011
by steve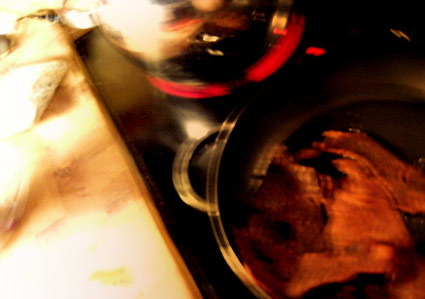 'Mark Preston discovered early California recipes while cataloging rare books for the UCLA library'
I picked up Mark Preston's California Mission Cookery at one of the missions lining El Camino Real, somewhere between Santa Clara and San Luis Obispo. Or Santa Barbara. One of them.
The cookbook is all about Californio Cuisine, a long lost Spanish-influenced cooking style using local ingredients. The food of the original missions.
I've made the Beef Jerky soup a few times.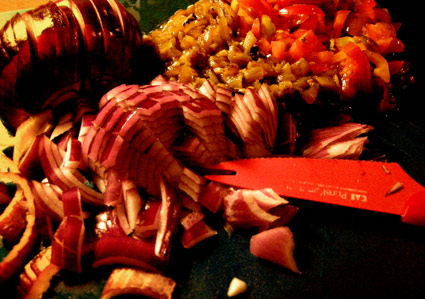 Jerky is great for soup, it works like a big, bouillon cube – leading to a strong savory flavor. I've noticed, tho, adding some water in the roasting process helps; and a food processor can cut down on grinding time.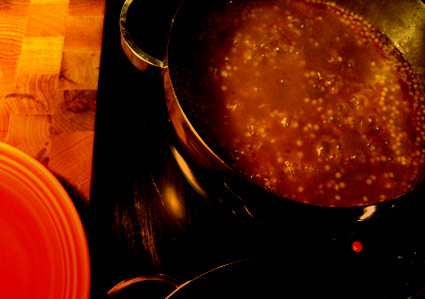 'sopa de carne seca y arroz'
beef jerky soup
ingredients
3 oz. Beef Jerky
1 tbs Cooking Oil
1/2 cup Rice
1 large Tomato, ripe
1 Green Chile, roasted, peeled and chopped
1 medium Onion
1/2 tsp Pepper
Salt
1 Quart Water, boiling
to make
In a non-stick skillet, roast the meat to soften it. In a mortar, preferably a metate, grind the meat to fine shreds. Heat the oil in a stew pot and sauté the rice, tomato, chile and onion. Add salt and pepper. Add the shredded meat and 1 quart of boiling water and simmer until rice is done, 15 to 20 minutes.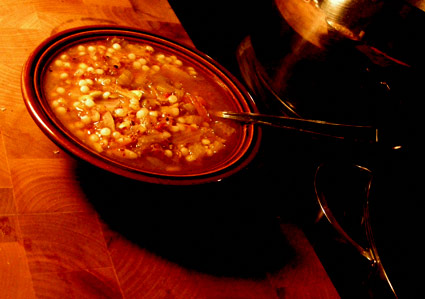 variants
For my latest batch, I passed on beef and went with bison; using jerky made from buffalo. I also typically use Basmati rice (adjusting the cooking time as necessary), but this week opted for a 'Harvest Grains blend' found at Trader Joe's – a mix of couscous, orzo, split garbanzos and quinoa. Small multi-colored heirloom tomatoes gave the soup bite. I also added a splash of fire roasted tomatoes.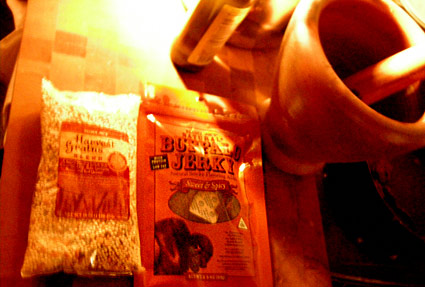 Recipe source: California Mission Cookery, copyright © 1994 Mark Preston; photos by mehallo