Posted on
March 10th, 2011
by steve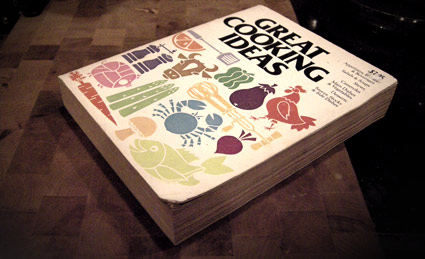 Hattie Carter's Great Cooking Ideas is this phone book sized thing that came from a garage sale.
Published in 1978 – on really cheap newsprint (just like real phone books) – this thing is quite a gem. Nothing I've ever made from its pages has ever let me down.
Cuisines covered are surprisingly global (for the time) – curries and sukiyaki mixed in with a homespun collection of casseroles and bakes. Not a design masterpiece tho; cute clip art-like illustrations punctuate large Helvetica type – with heds set in Souvenir, odd floral borders abound.
The Italian Beef Stew is a fantastic mix of flavors. Here's the recipe.

italian beef stew
ingredients
stew
1 1/2 lb lean beef, cut in 1-inch cubes
3/4 lb sweet Italian sausage
2 cloves garlic, minced
10 sprigs parsley, leaves only
1/2 lb fresh mushrooms, sliced thin
3 Tb olive oil
1/4 cup butter
2 oz salt pork, diced
1/2 lb onions, coarsely chopped
1/4 tsp freshly ground black pepper
1 bay leaf, crumbled
1/2 tsp dried basil leaves
1/2 cup dry white wine
2 tbsp minced celery
2 tbsp minced carrot
1 medium-sized fresh tomato, diced
1/2 cup hot water
Pinch nutmeg
Salt
to make
[1] Remove casing from sausage. Cut in 1 inch rounds.
[2] Chop garlic and parsley together until almost puréed.
[3] Heat the olive oil, butter and salt pork in a Dutch oven. Add the onions and sauté slowly until they are lightly browned.
[4] Add beef and sausage and cook for 10 minutes, stirring occasionally.
[5] Add garlic and parsley, pepper and bay leaf. Stir and cook for 10 minutes.
[6] Add wine. Stir. Simmer, covered, 10 minutes.
[7] Add celery, carrot, tomatoes and mushrooms. Stir and cook for 10 minutes longer.
[8] Add hot water, stir, cover and simmer for 40 minutes.
[9] Sprinkle a little nutmeg over top of stew. Simmer, uncovered, an additional 10 minutes, or until meat is tender.
[10] Taste for salt and add, if needed.
polenta
1 cup yellow cornmeal
1 cup cold water
1 tsp salt
2 tbsp butter
3/4 cup melted butter
3/4 cup grated Parmesan cheese
to make
[1] Bring 4 cups of water to boiling in a saucepan.
[2] In a mixing bowl, combine cornmeal, cold water and salt. Stir into boiling water. Stir constantly over low heat for about 15 minutes.
[3] Add 2 tbsp butter and stir.
to serve
Put polenta in large, shallow individual serving bowls. Pour melted butter over polenta and sprinkle with Parmesan. Spoon stew and gravy on top. Serve with a light, dry red wine, such as Valpolicella or Gamay Beaujolais.
Makes 4-6 servings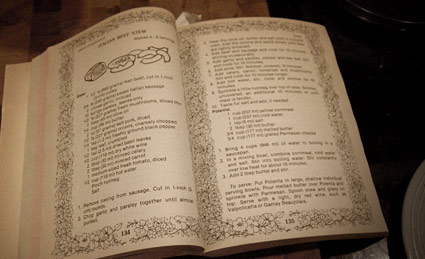 Recipe source: Great Cooking Ideas, copyright © 1978 I. Waldman and Son, Inc.; Illustrations credited to Al Leiner, Arthur Friedman, Marc Mallin and/or Bill Silbert; photos by mehallo