Posted on
November 5th, 2010
by steve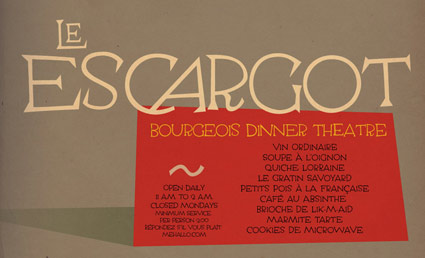 I think it's time for a good old fashioned font giveaway.
Escoffier Capitaux is my tribute to culinary legend Auguste Escoffier – and is based on the 1920s lettering (done while in France) of commercial illustrator/fashion designer Ernst Dryden. The font also has some Herb Lubalin-like ligatures and a bit of Garamond thrown in.
Very French.
to enter
All you have to do is leave a comment on this post. To comment, just click the 'comment' link below (and please fill out all the fields).
I will randomly select one winner from the comments. The winner will receive a complete, licensed copy of my Escoffier Capitaux font, OpenType format, $19.23 USD value. For more about the font, go here.
(Just for the record, 1923 was the year my dad was born)
Contest ends 11 p.m. (pacific time) Wednesday, November 10, 2010.
update
A winner has been randomly picked: Derek Walker won a licensed copy of Escoffier Capitaux! Thanks to everyone who played along, and I loved the comments.