Posted on
September 15th, 2010
by steve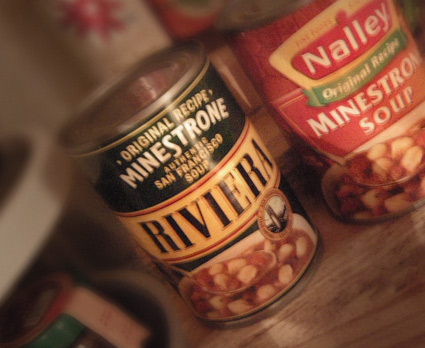 Here's a little piece of San Francisco that only a local would know about.
Riviera 'Authentic San Francisco' Minestrone has been around since 1934. The green cans used to show up in drug stores and markets. Made from an old Italian family recipe.
It's a rustic, bean-based soup with Swiss chard, noodles and a deep meaty flavor. It's owned by the Birds Eye food company – and recently, they were even carrying it with a Nalley label (above, right).
Unfortunately, any form of the Riviera 'Original Recipe' Minestrone has been off the market for a few months now – and the Riviera 'Authentic San Francisco Soup' brand is now selling more mainstream canned soup flavors.
Luckily, I have a recipe of my own.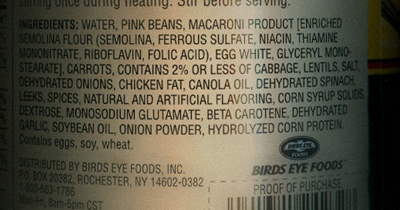 Soup ingredients, today
Almost 20 years ago, I decided to craft my own take on this 'San Francisco' soup. With can label in hand, I took apart the ingredients – thumbed thru a few cookbooks – and came up with a decent substitute.
Interesting to note, the ingredients on the 1990 label were a bit different than what's been available recently. Less . . . 'artificial flavoring.'
My own version is not quite a clone. The result is a similar dish, a bit more chunky and just as hearty. Tho as I was once making the soup, my friend Ray Savage wrote another name for it across the top of my recipe:
mehallo's san francisco minestrone
or 'how ray died'
ingredients
2 1/2 pounds pork chops
3 or 4 boneless chicken thighs
2 strips good bacon
Sliced garlic cloves
4 or 5 chopped carrots
Olive oil
A chopped onion
Some chopped leeks
Some chopped shallots
Few handfuls of chopped swiss chard
Few handfuls of spring salad mix
Some shredded cabbage
Fresh parsley
Fresh basil
Fresh rosemary
3 15 oz. cans pink (or pinto) beans, drained
Half a package of dried lentils
1 bay leaf
A few teaspoons of a good, dry Italian seasoning mix
2 cans chicken broth
1 can beef broth
Water
A good dry pasta (shells or other)
Juice of 1/2 lemon
Sugar, salt, black pepper to taste
to make
Put the meats, garlic and carrots in a roasting pan – drizzle with olive oil – and throw in the broiler until browned.
Chop the meats – remove the bones from the pork chops – and add the roasted ingredients to a large soup pot. Tie the roasted pork bones together and also place in the pot.
Add the rest of the fresh ingredients, plus the beans, lentils, bay leaf, seasoning and chicken/beef broth. Cover all with water and simmer for around 90 minutes.
Separately, boil the pasta in a pot of salted water per package directions, but slightly undercook. Drain and set aside.
After 90 minutes, remove and discard the pork bones and bay leaf from the soup. Transfer about a third (or half) of the soup to a food processor and blend. Add the thick mix back to the pot, add the lemon juice, sugar, salt (it may need a lot) and black pepper to taste. Simmer a bit more, stir in the cooked pasta and enjoy.
Variants: Try adding Italian sausage, chopped hard boiled eggs, some peppers or different types of beans.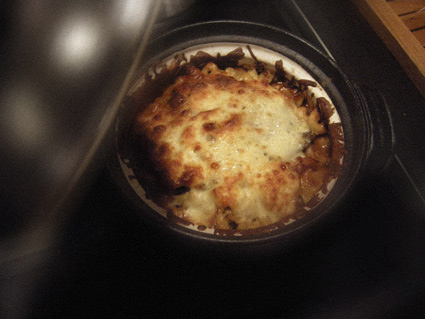 Serving suggestion: Cover the final soup with mozzarella and broil in oven