Posted on
January 17th, 2010
by steve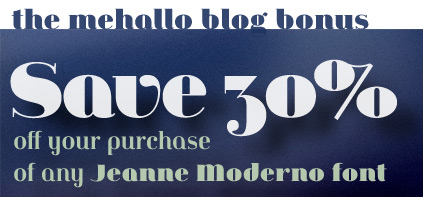 As a thank you for everyone who entered my contest, I'm offering 30% off the purchase of any Jeanne Moderno font at MyFonts.
Please use this discount code: MEHALLOBLOGBONUS
Discount applies to single weights or for the complete family. Discount code is required, input at checkout. Offer available only thru MyFonts. Promo ends Monday, February 8, 2010.
Go here to order.
New blog posts coming later today (I'll be back on a mostly daily schedule) . . .